For a week in June, I based myself out of Boulder, Colorado, and sought out classic moderate trad climbs. I made it to Estes Park, Mt. Evans, Eldorado Canyon, Lumpy Ridge, and a few other places in just seven days, completing 33 pitches in total. Here's a brief look at a few of the climbs and areas I visited.
I flew in to Denver and was picked up by my buddy Matt and we immediately drove to Chautauqua Park in Boulder. We decided to climb the First Flatiron, aiming for the 5-pitch arete route to gain the summit. We changed clothes in the parking lot and had a brief yard sale before hiking up to the base of our climb.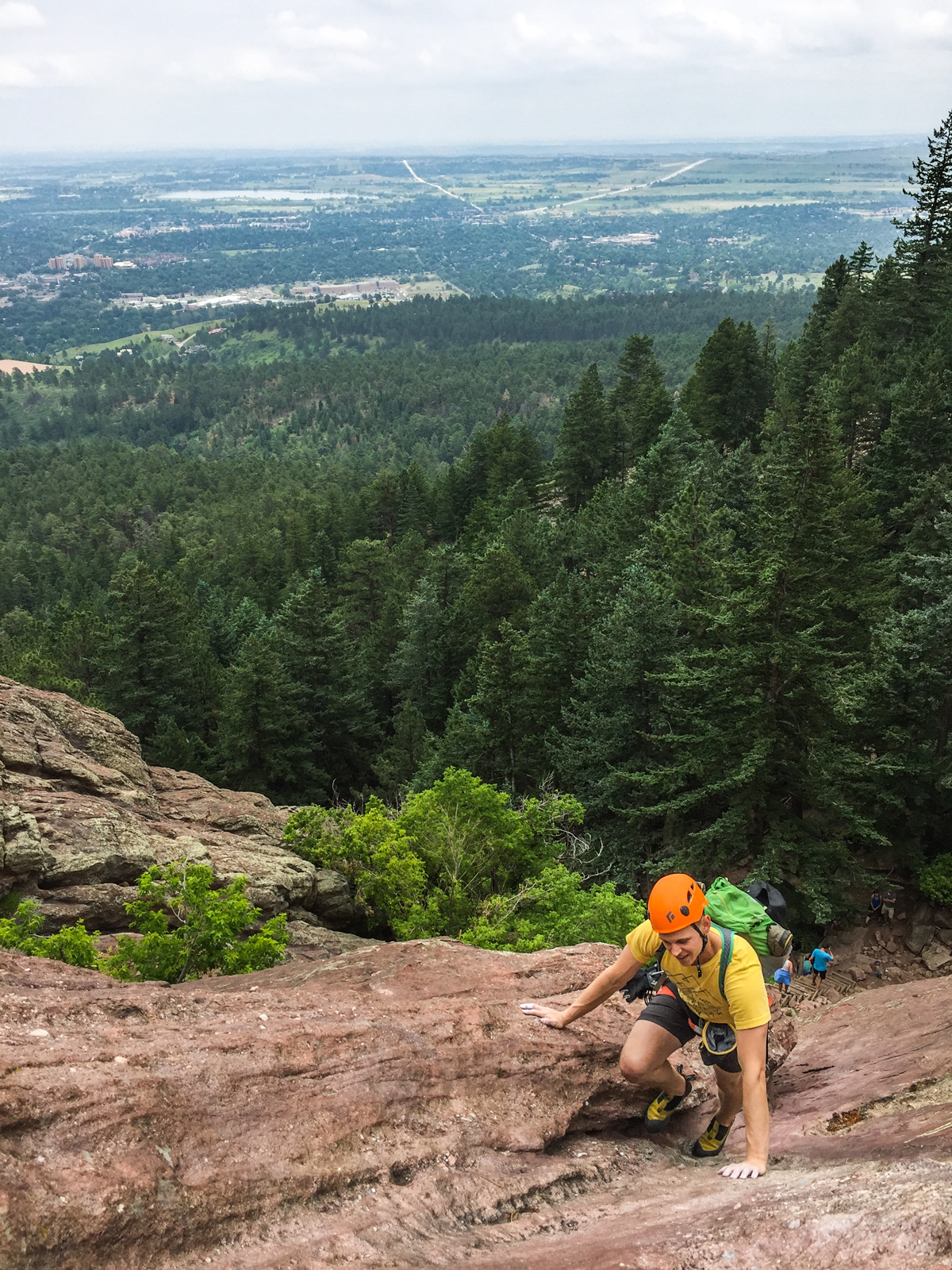 We ended up soloing about 60 feet up and to the right in order gain a small ledge away from the crowds.
This was a great warm up for the coming week, and it was nice to stretch my legs out a bit after being crammed in a plane all day.
For such an easy climb, the exposure and setting was fantastic. At the end of the route, it was just a single rappel off the backside to get on the ground, followed by a leisurely hike back to the car.
We finished Rewritten via the "Rebuffat's Arete" variation, which was an absolutely stellar pitch of climbing, riding a surprisingly steep, but featured, arete for about 60 feet before down climbing for a moment to start a final 40 feet of hero jugs, hands, and fist cracks to the top. This ended up being my favorite climb of the entire trip! I would definitely go back and do it again.
After our Eldo climb, we cleaned up a bit and packed gear for Estes Park. We camped at Meeker Campground for the next few nights while climbing in Lumpy Ridge and the Estes park Valley.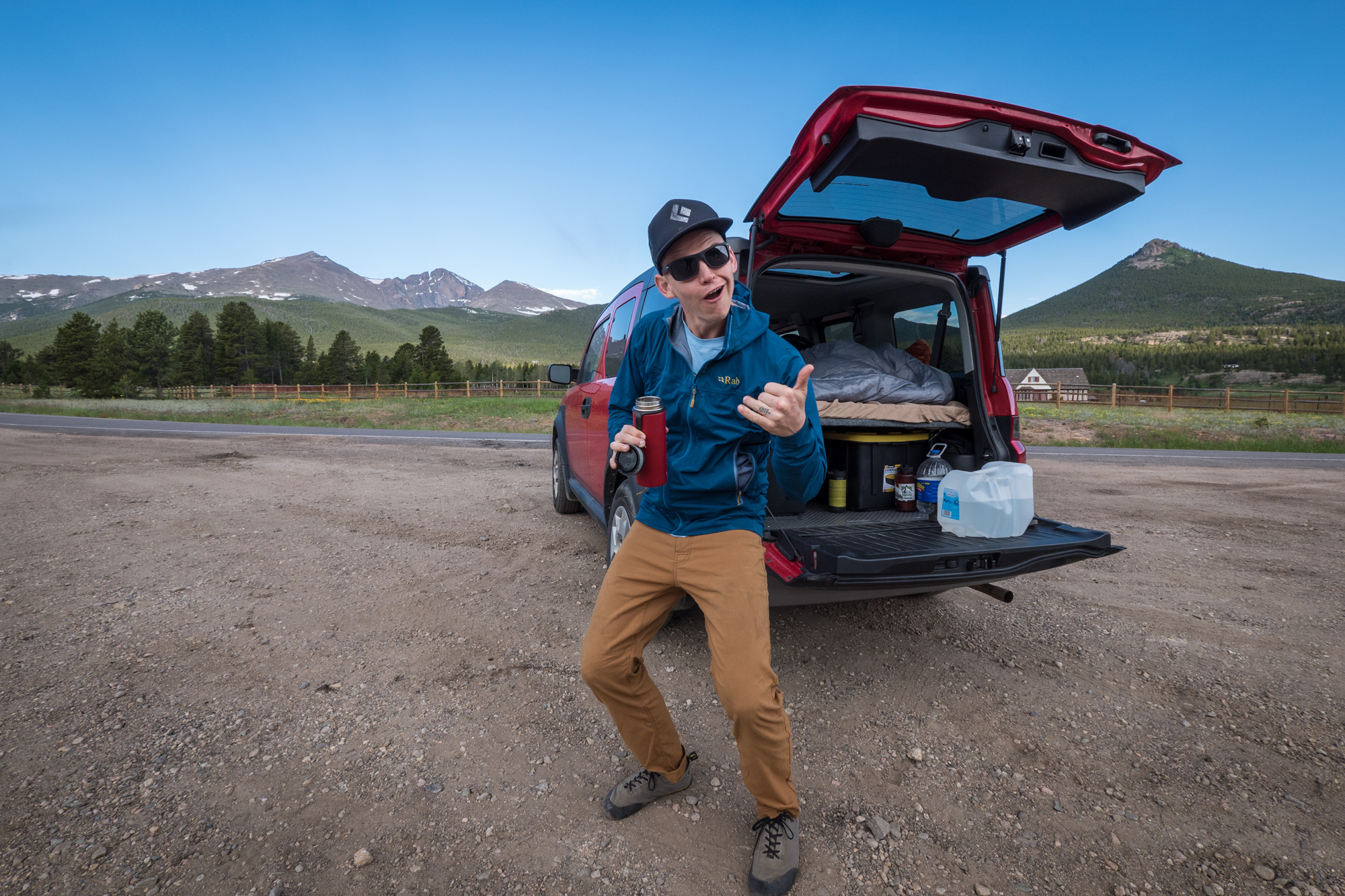 Some goofing off may have happened along the way.
As cool as it might sound, we had trouble route finding about halfway up, and with other groups in front as well as behind us on the enema train, we must have taken a wrong turn somewhere, and missed the third pitch. Even though we got off-route, the weather played nice and we were treated to views from the top that didn't suck.
In all, the climbing was just OK, but since things took so long and by that time most of Lumpy was baking in the afternoon sun, we split for cooler climbs elsewhere. Matt and I ended up at Thompson Canyon, and clipped bolts for the first time on our trip. We both sent a fun route called "Mary's Tricks."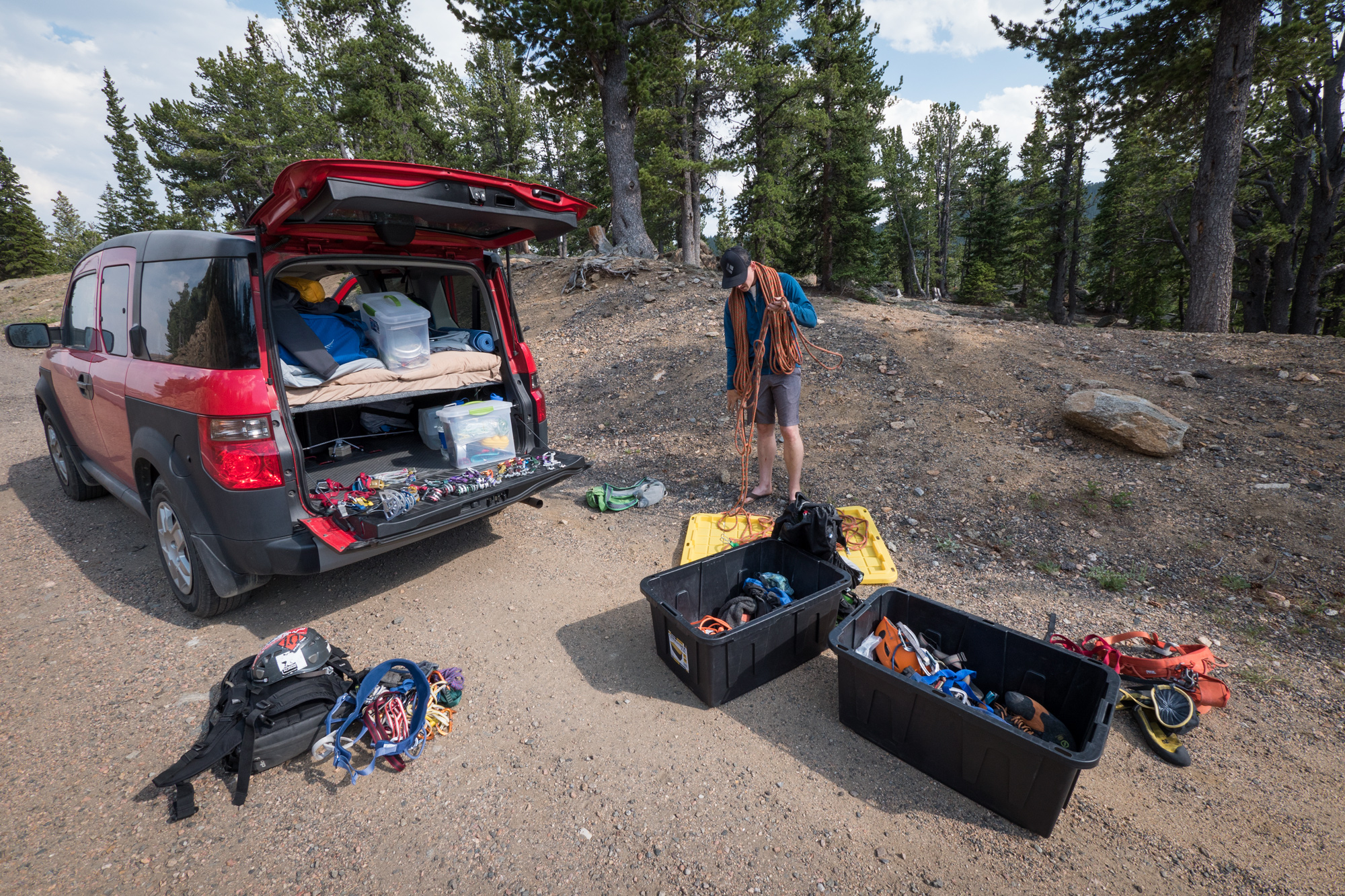 The next day was our only rest day.
We needed to figure out where to sleep, and then get packed for the next day's objective...
We had originally planned on driving to Wyoming to climb a route up Pingora, a peak in the Wind River Range, but with all of the late season snow that fell in the West, the area we planned to climb was inaccessible. Therefore, we wanted to find some other semi-alpine objective to get us a little scared, and a little high (in elevation). While scouring through pages on Mountain Project, we found that Mt. Evans had some moderate, highly rated routes that were a only a short hike from the car, yet would provide 5+ pitches of climbing at over 13,000 feet.
With a full days rest, Matt and I work up early, prepared and ready to tackle "The 2nd Apron Right Side." Even with a short approach, there were several potential object hazards that came with the territory. Loose rock, tricky route finding, afternoon thunderstorms, high winds, and of course those terrifying rectangular-eyed mountain goats.
The approach was beautiful, but it revealed that the start of the route was in fact guarded by a snowfield. No stranger to a little bit of the cold white stuff, I offered to lead over the snow and set a belay for my partner at the base of the rock route. This ended up being my personal crux for the day, with about a 60-feet of hard packed snow that was more like ice.
My approach shoes had zero grip on this and we had no crampons, micro spikes, or ice tools for the traverse.
I found a jagged rock and used it to cut out holds and holes to sling when the tracks became dangerously slick.
Once on route, I led the first pitch and then Matt and I swapped leads to the top. We did get off route at one point, although I did find chalk and signs of previous climbers in the small gulley we got sucked into on the right. We got back on track and made it to the ridge in about 5 hours, where we celebrated with a shooter of Woodford Reserve, a little taste of our Kentucky home. Our brief nip was followed by a 30-minute hike to the summit of Mt. Evans, where we caught a ride down the mountain in the back of a pickup truck.
Here's a small gallery of images from the approach and climb itself.
Once we had made it down the mountain, we promptly headed for Idaho Springs, where Tommyknocker Brewery awaited us. And also nachos.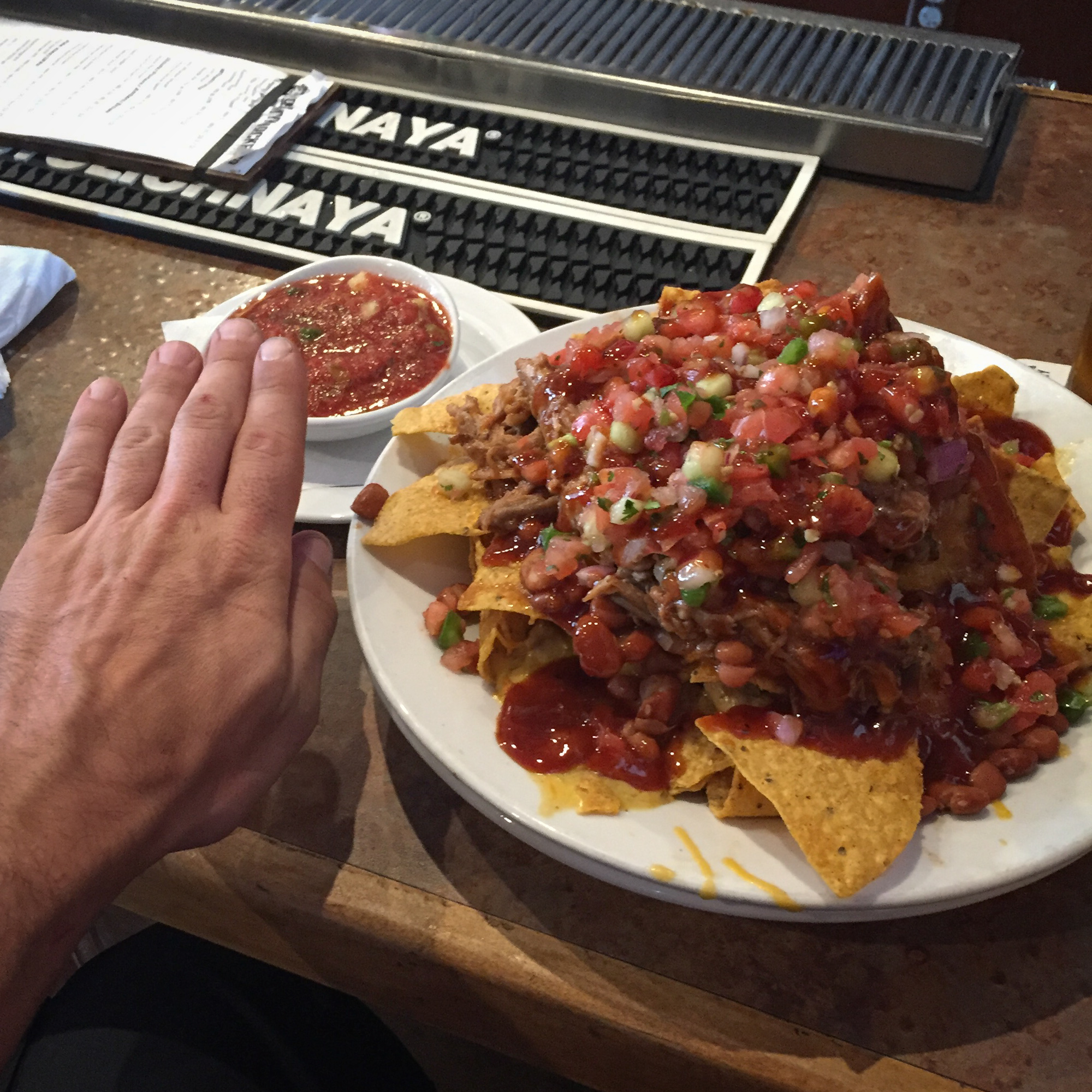 We were feeling pretty good about ourselves at this point; bellies full, faces sunburned, and legs pleasantly sore. Somehow we decided to go sport climbing afterward, and wandered down I-70 to a small crag called Mill Creek, where we did a couple routes, including a fun, bouldery 5.12 called "Eye of the Tiger." Thumbs up for permadraws!
The next morning Matt and I drove a bit further west on I-70 to check out an area a few locals had told us about called Mt. Royal. With a mega-long, bolted multipitch less than five minutes from the parking lot, we figured why not.
The climbing was just OK, and we only swapped leads once, going about 200 feet up out of the 1500 total that this route offered. It was getting into the sun, was pretty wandery, and we just didn't quite have the energy or the desire to spend the entire day on the climb.
We drove back to Boulder and regrouped with Matt's wife Stacy, and the next day we checked out a place called River Wall, which gave us a bit of relief from the sun in the morning, with rushing waters below the climbs keeping temps a bit more cool as well.
We did some 4-star 10s and 11s and didn't see another climber the entire day– unusual for a weekend in Boulder.
With high water levels, most routes had to be top-roped, with the belayer lowering the climber down from the top. This allowed for some cool photos, and the climbing was actually really good!
The next day I was on a plane back to Kentucky! We climbed 33 pitches in six days of climbing. The full ticklist can be read about here on Mountain Project. Thanks to Matt for all of the belays and a few images of myself from the trip!