There's a hidden river canyon near the Utah border of southwest Colorado that sees very little traffic, from both climbers and hikers. The rocks are red, the river runs fast, and there are even bears about as well.
I came here to climb with a friend a few years back, and ever since that first trip I've wanted to do a photo session here. The climbing style is mostly trad, with not much being lower than 5.9 in grade, which means it is not for beginners. Luckily for me, a climber friend of mine named Tim was a very skilled climber and is very intimate with the routes in the area. After trying for months to set up a shoot, we were able to align our schedules and spent the day climbing in the river canyon.
We planned to meet up right around sunrise and spend most of the day shooting. I arrived at the location a little early to get some landscape shots. After jumping on top of my truck for a higher angle down the river, I noticed that there was a black bear crossing it, maybe 100 yards from me. I had my 16-35 equipped, so I quickly hopped down to throw on a longer zoom lens, but by the time I made it back on top of the truck, the bear was gone!
I greeted Tim and his climbing partner Mike, and we proceeded to scout the area for a climb that would give me the angles and light I was looking for. We decided on two routes in the same area that would give me two completely different types of images, and it required only a single rope setup for me to shoot from.
8am definitely isn't too early for a PBR when you're about to climb hard trad in the full sun on a hot day.
Tim's dog Ueli kept a watchful eye over things while we were busy getting gear sorted and mentally preparing for the next few hours of baking in the hot sun.
The first route had a large finger-hand crack section for the top 60 feet or so, and after having Tim climb it once to set up ropes, I jugged up my static line and surveyed the route from above, identifying different places where Tim would be placing gear or struggling to climb through.

The shot I was looking for would hopefully include a top-down perspective that showed the crack in the rock, but also the focus of Tim while trying to place protection. For these images I'd shoot with a shallow depth of field and a medium-wide angle lens.

Here are some of the shots I got from that climb.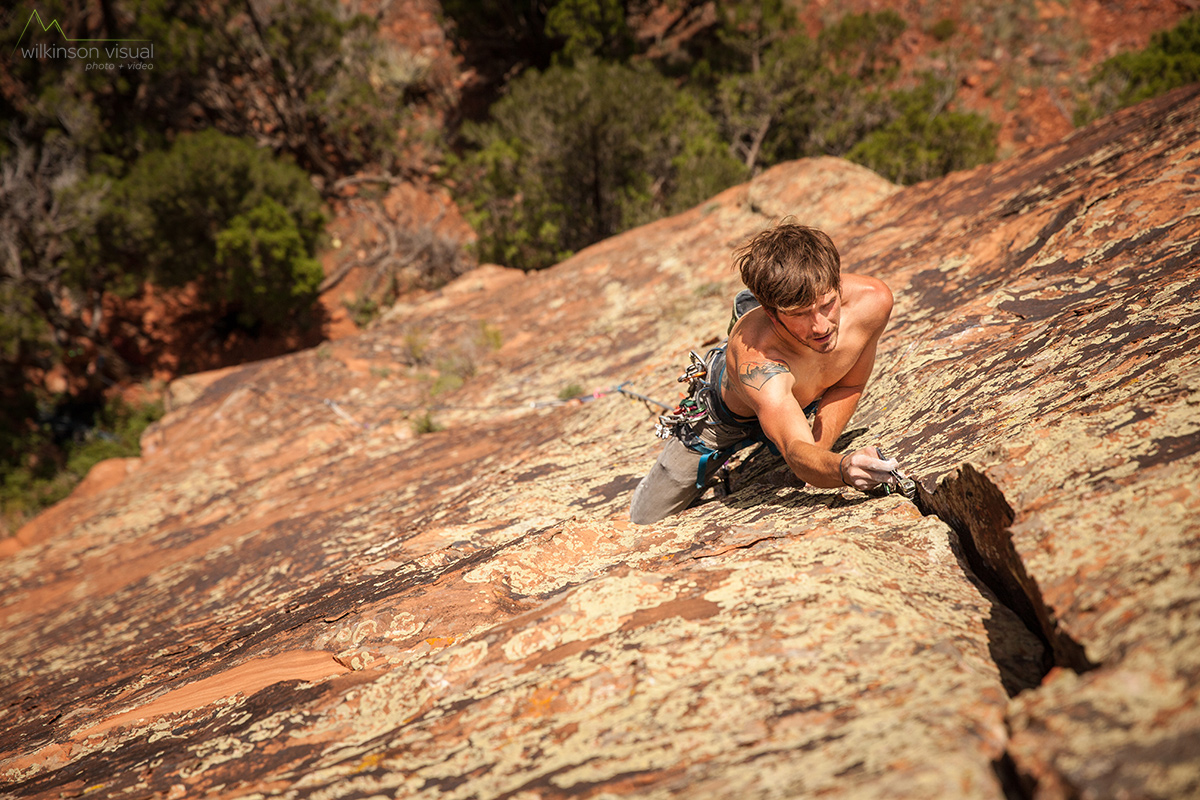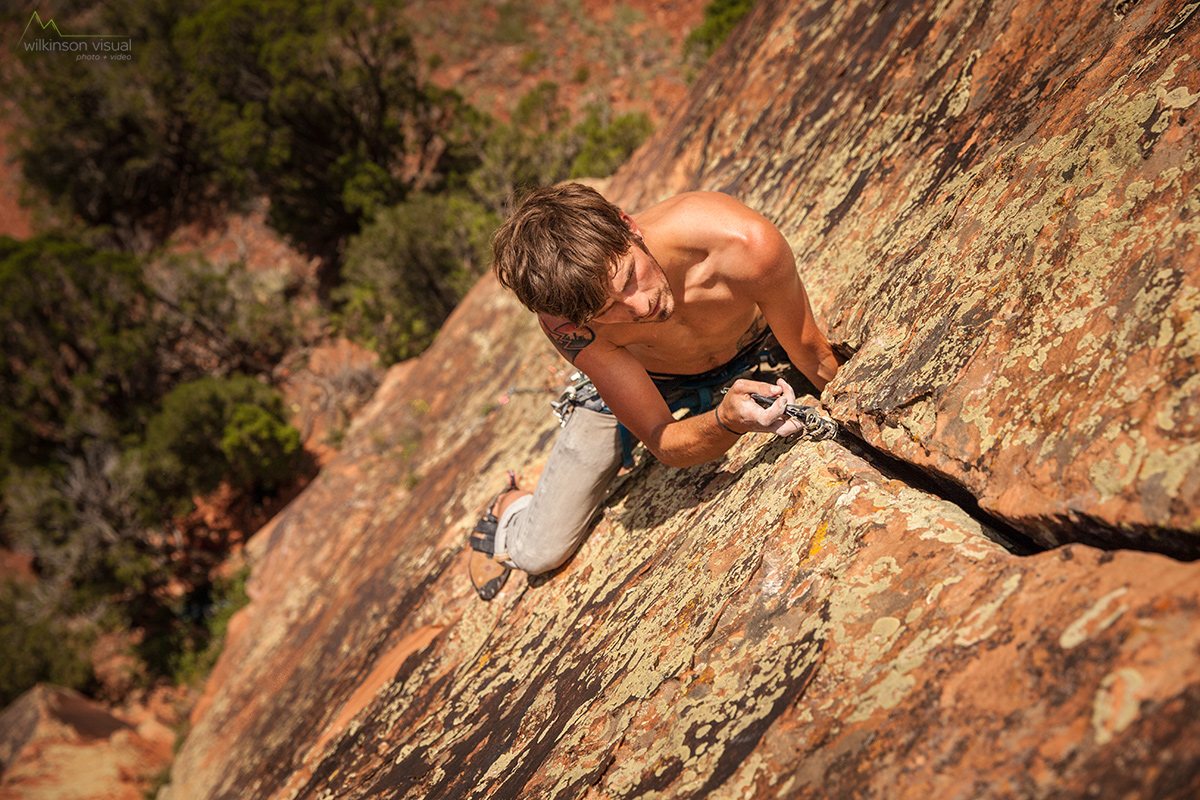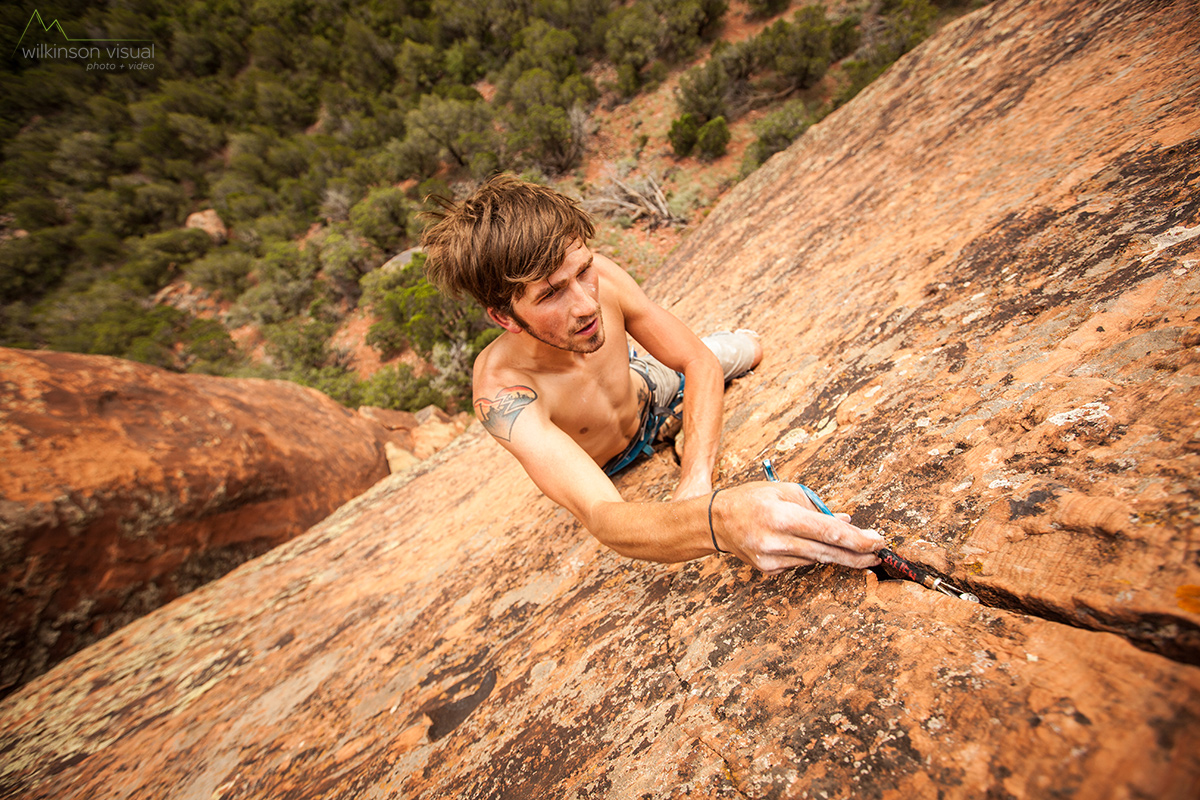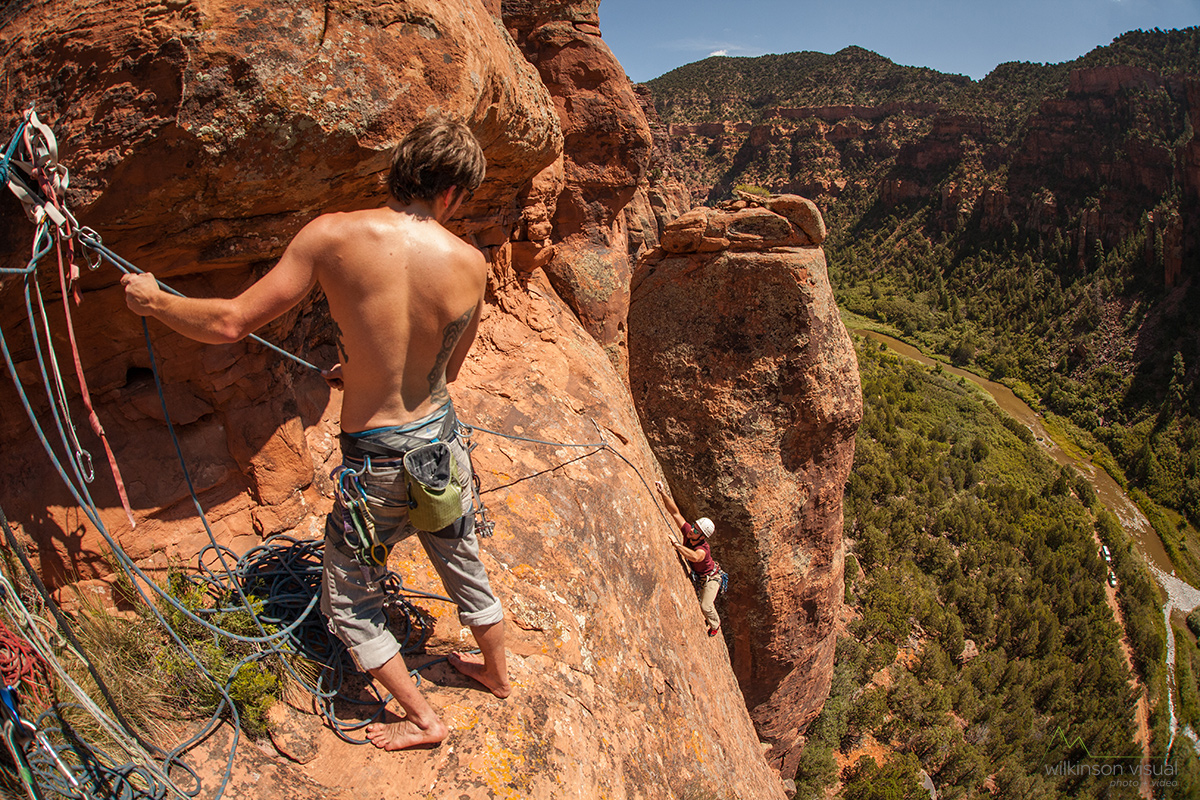 While I was on my static line, I noticed that the adjacent route (to climber's left) would provide me with the second angle that I was looking for; an angle that revealed the river as it cut through the canyon, with the landscape standing tall in the background while the climber ascended a face climb in the foreground.
This was ideal for me since it meant I wouldn't have to re-set my rope to another climb, and it could be done immediately by Tim and Mike. They were both psyched to climb that route, so I hung out in the sun while they completed the first climb and prepped for this new one. Here are the images I came away with from that angle.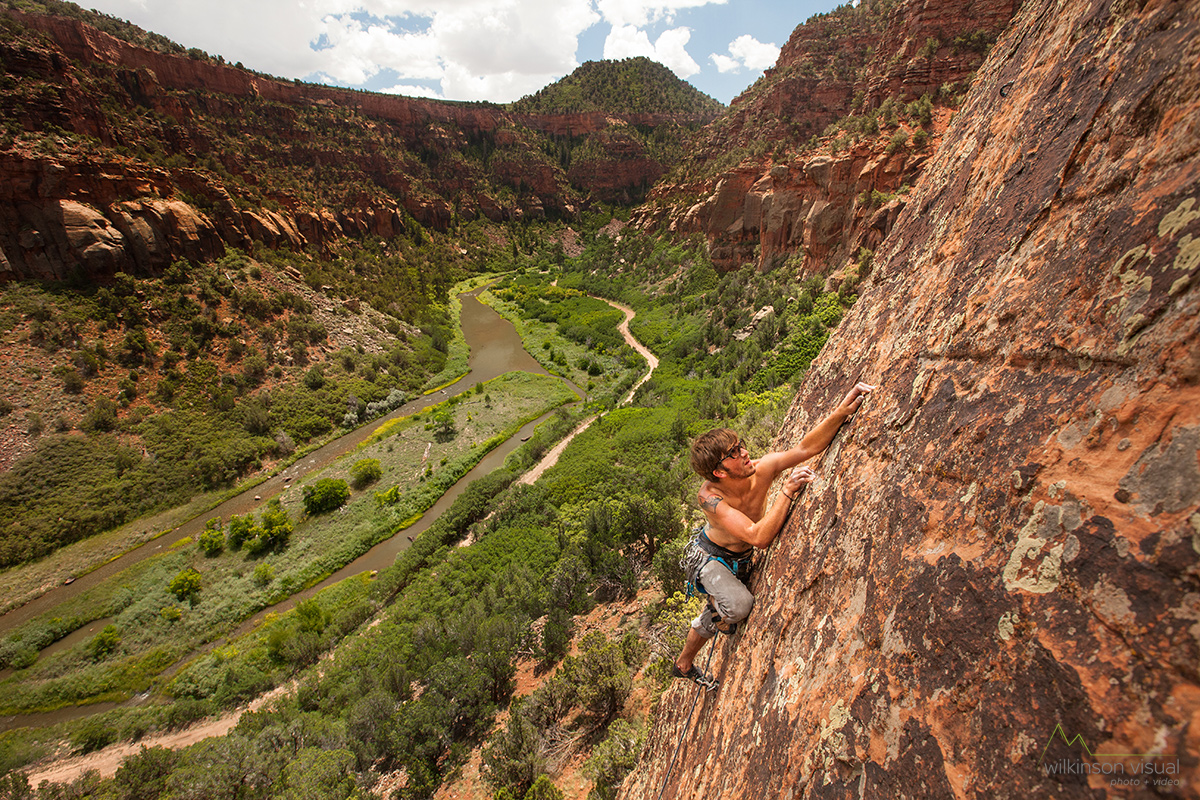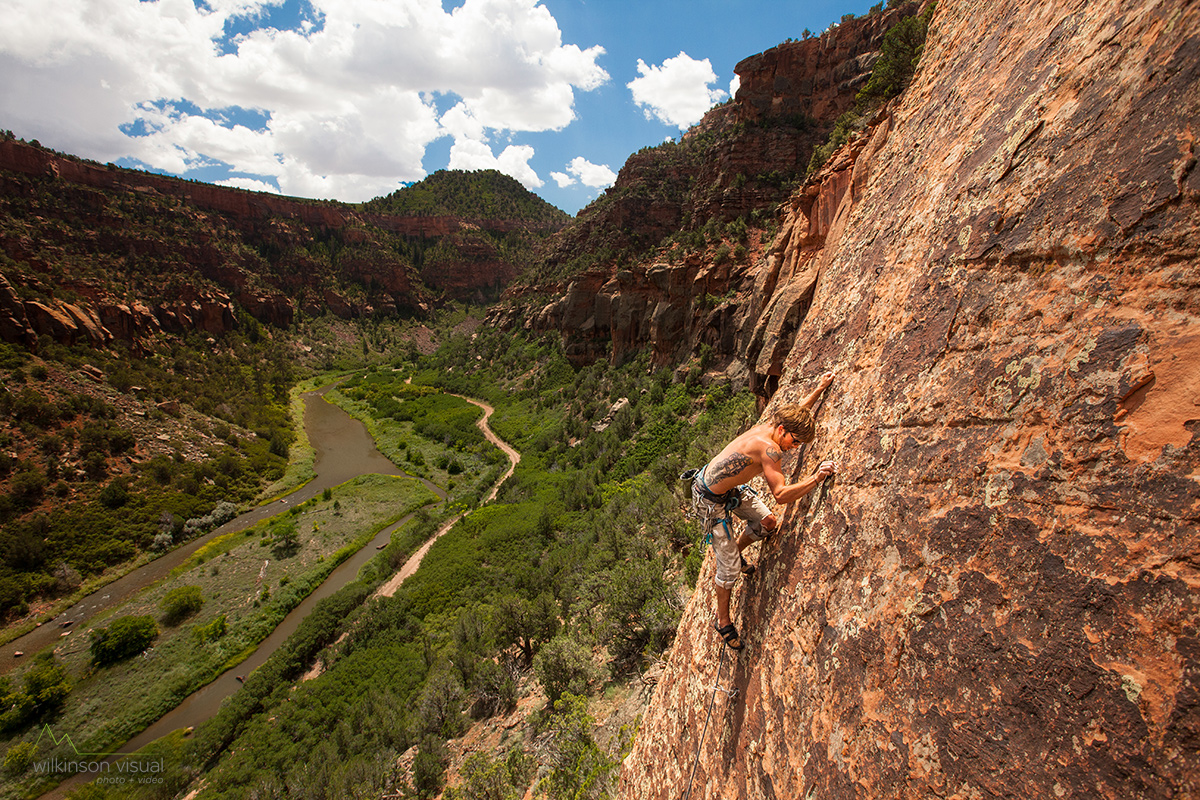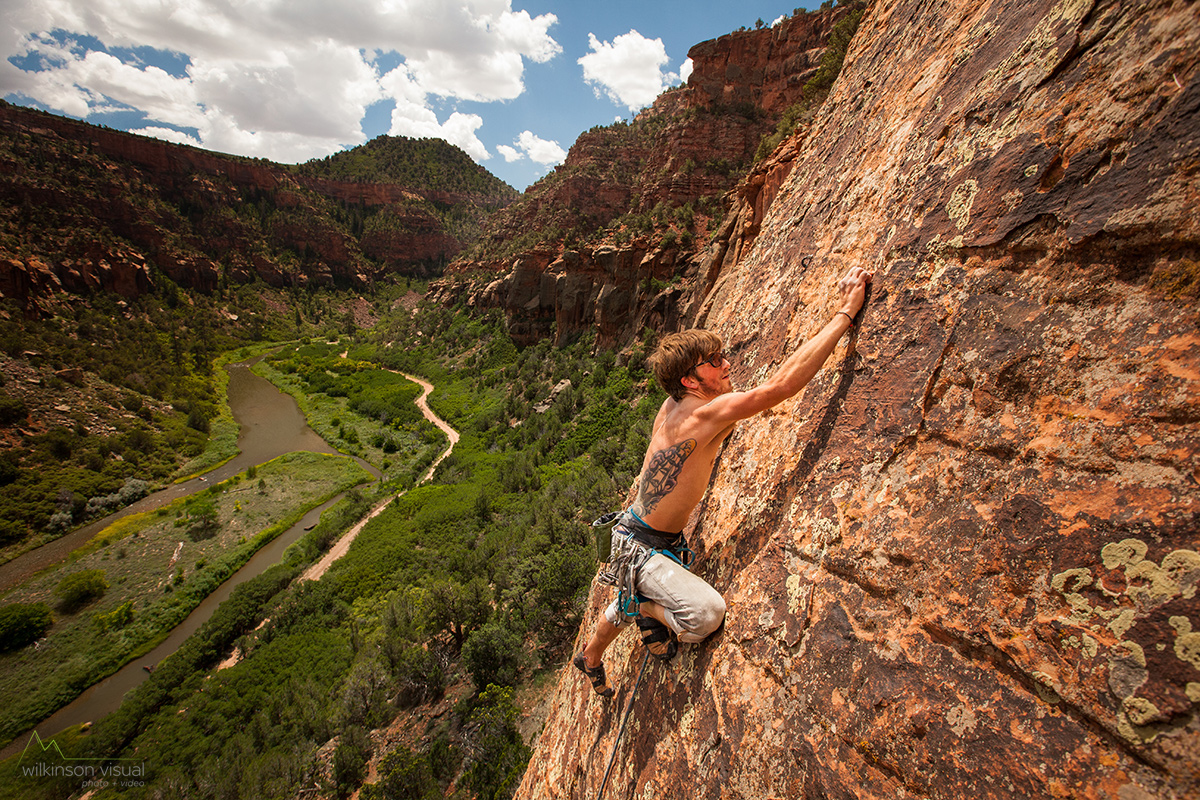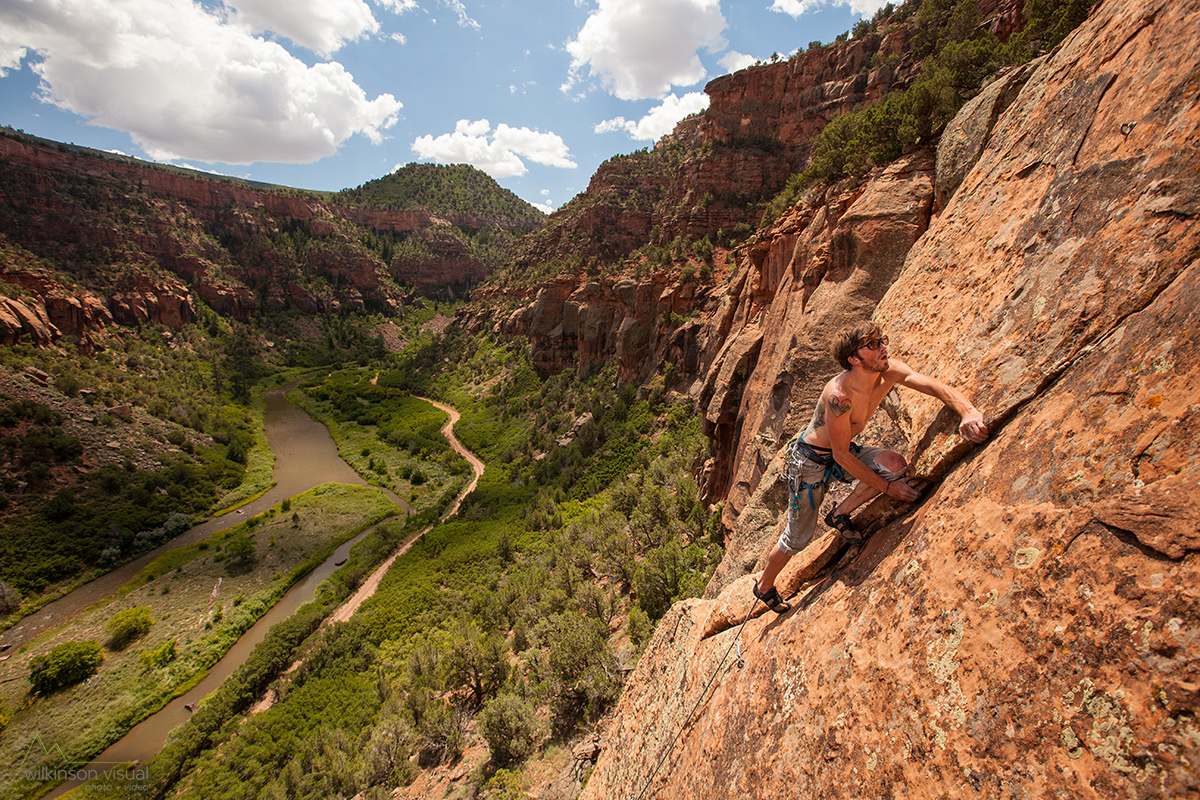 With a couple of climbs in the bag and some great shots, we retreated to the shade of the truck to re-hydrate before planning the next climb. It was time to put the camera away for that one, and actually enjoy getting my hands on the rock as a climber, rather than as a photographer.
Hopefully I'll make it back out here someday to check out more of the area and see what other unique images can be made! It's such a cool place and I'm surprised it isn't more popular, but it really is out there, and not the easiest place to find. Totally worth it though!